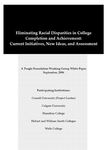 Book Title
Eliminating Racial Disparities in College Completion and Achievement: Current Initiatives, New Ideas, and Assessment
Publisher
Teagle Foundation
Abstract
In order to close racial and ethnic gaps in educational attainment, it is necessary to focus on closing gaps in both college enrollment, and college achievement and graduation. Recent court cases and volumes of research have focused on preparing, recruiting, and admitting diverse cohorts. In this report, we focus on what colleges and universities can do to ensure that among the students they admit, achievement and graduation rates are comparable across racial and ethnic groups.

With generous support from the Teagle Foundation, faculty, staff, and students from Cornell University, Colgate University, Hamilton College, Hobart and William Smith Colleges, and Wells College have worked together to:
Use existing literature to review the key determinants of racial and ethnic disparities in college completion and achievement;
Inventory our existing diversity initiatives, and those of our peers;
Identify particularly promising diversity initiatives; and
Consider assessment options for diversity initiatives.
We believe that this report will be a critical resource for administrators, faculty, staff, and students who are committed to the difficult work of implementing effective strategies for closing racial and ethnic gaps on campus. As our nation and our campuses grow ever more diverse, this is a need that we cannot afford to ignore.
Hamilton Areas of Study
Philosophy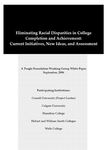 COinS