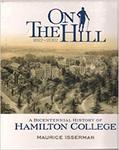 Book Title
On the Hill: A Bicentennial History of Hamilton College, 1812-2012
Publisher
Trustees of Hamilton College
Abstract
In 1812, the Regents of the State of New York issued a charter to the third college launched in the state, and the 31st to be established in the United States — a college named for Alexander Hamilton and tracing its origins to a school established by the Reverend Samuel Kirkland in 1793 for the children of Indians and white settlers.
On the Hill: A Bicentennial History of Hamilton College marks the occasion of that college's 200th anniversary in 2012. It is the first official and full-scale history of Hamilton to be published since 1962, the year of the College's sesquicentennial. The half-century between 1962 and 2012 brought great changes to the institution, as Hamilton more than doubled in size, dramatically revised its curriculum, reshaped campus social life, became coeducational, attracted a more diverse student body and rose in national prominence. At the same time, much stayed the same. In 2012, as in 1962 — and, for that matter, as in 1812 — Hamilton remains a small, selective, residential liberal arts college with a dedicated faculty of teacher-scholars.
This book is thus a history of change and continuity played out over two centuries on a hilltop overlooking the village of Clinton, New York. It is also a consideration of the myriad ways in which the evolution of the college was bound up with a much larger history — local, regional and national. And, finally and throughout, it is the story of the men and women who taught and studied at Hamilton College over the course of two centuries, and in doing so created a legacy of a vibrant, if not always harmonious, learning community, a legacy that they have passed on to their successors in the years to come.
Hamilton Areas of Study
History