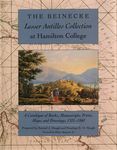 Publisher
University Press of Florida
City
Gainesville, FL, USA
Abstract
This distinguished catalogue of the Lesser Antilles provides extensive, precise descriptions of approximately one thousand printed books and one thousand manuscripts that Walter Beinecke, Jr., collected over several decades and donated to Hamilton College in Clinton, New York, where he was a trustee. The collection includes hundreds of rare original documents, fifty maps, plantation reports, correspondence, and oil paintings and watercolors.
The catalogue of the Walter Beinecke, Jr., Collection describes unique manuscript material and many rare books more fully than previously available in bibliographies. The Houghs have applied advanced bibliographical knowledge to this work and in some instances have added cogent historical annotation.
The collection's content addresses issues of broad international significance. Full understanding of the early history of the United States can best be achieved by studying interaction among the European states and the Antilles, as well as the commercial connection between the continental colonies and the Antilles. During the century and a half represented in this collection, England grew from a northern European power to a dominant world power, its growth largely funded by wealth provided from the Indies.
This work will be invaluable to libraries with holdings in Caribbean material, slave and slave trade material, economic history, American cartography, early American history, and general American travel books. It will be useful to all historians writing on the history of the region or on the history of colonialism and the slave trade generally.
414 pages : illustrations ; 29 cm
Hamilton Sponsoring Organization
Library and Information Technology Services
Hamilton Cosponsoring Organization
Richard W. Couper Press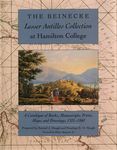 Included in
COinS