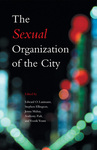 Book Title
The Sexual Organization of the City
Editor
Edward O. Laumann, Stephen Ellingson, Jenna Mahay, Anthony Paik, Yoosik Youm
Publisher
University of Chicago Press
Abstract
In The Sexual Organization of the City, Edward Laumann and company draw on extensive surveys and interviews with Chicago adults to show that the city is a place where sexual choices and options are constrained. From Wicker Park and Boys Town to the South Side and Pilsen, they observe that sexual behavior and partnering are significantly limited by such factors as which neighborhood you live in, your ethnicity, what your sexual preference might be, or the circle of friends to which you belong. In other words, the social and institutional networks that city dwellers occupy potentially limit their sexual options by making different types of sexual activities, relationships, or meeting places less accessible.
To explain this idea of sex in the city, the editors of this work develop a theory of sexual marketplaces—the places where people look for sexual partners. They then use this theory to consider a variety of questions about sexuality: Why do sexual partnerships rarely cross racial and ethnic lines, even in neighborhoods where relatively few same-ethnicity partners are available? Why do gay men and lesbians have few public meeting spots in some neighborhoods, but a wide variety in others? Why are African Americans less likely to marry than whites? Does having a lot of friends make you less likely to get a sexually transmitted disease? And why do public health campaigns promoting safe sex seem to change the behaviors of some, but not others?
Considering vital questions such as these, and shedding new light on the city of Chicago, this work will profoundly recast our ideas about human sexual behavior.
Hamilton Areas of Study
Sociology